Hey friend,
This month, we've been thinking about what could be new for you in 2022 and we came up with collaborations! Collaborating with someone new is an amazing way to push yourself into something unknown, learn a new skill set, discover a new audience and grow, both in your career and as a person.
So join us in your first mini-collab and read on to find a short guide on the art of the collaboration, how Tutti was designed to help you collaborate and, lastly, which Tutti space could take you from idea to action for your next collaborative project.
All the best,
Gabriel and the Team @ Tutti
Scouting locations for your next film? Discover somewhere new.
Need a convenient music space to practice in? Check these out.
Looking for a professional dance studio that doesn't break the bank? Here you go.
Have lines to rehearse but struggling to find somewhere suitable? Find theatre spaces here.
Need a new studio to shoot in? See our photography studios.
Creator 🎵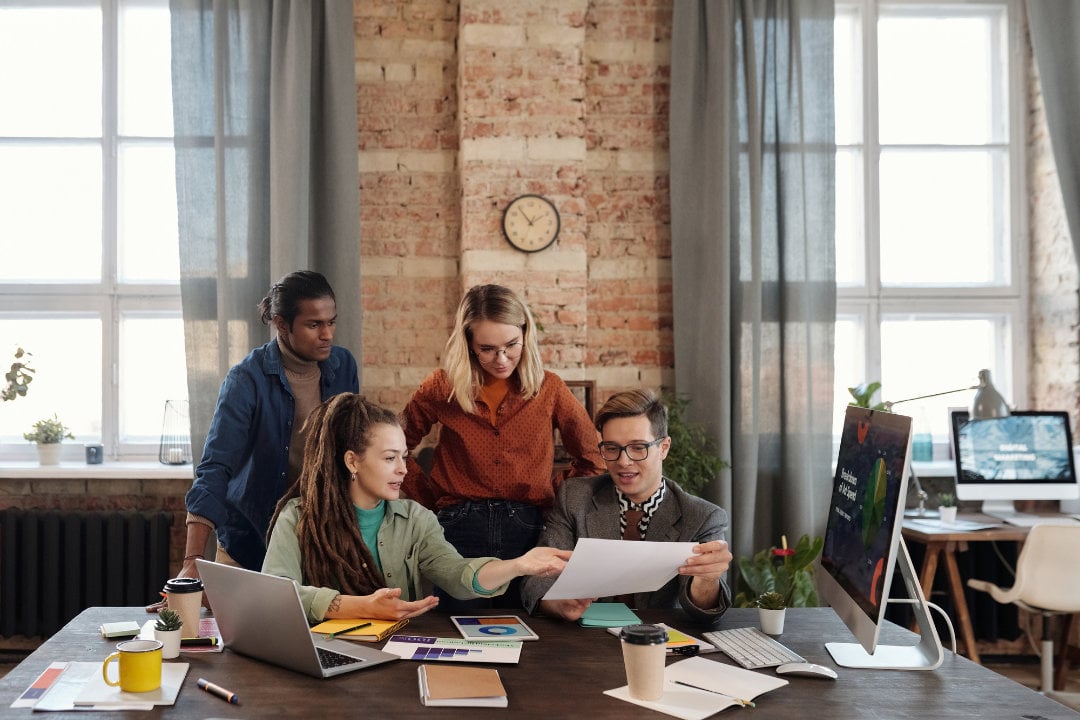 The start of a new year means new opportunities and a new period of growth. What better way to embark on that journey of exploration and development than with someone else: a partner, a teammate, a collaborator? This month's blog is all about creative collaborations in 2022: 5 signs that say you're ready for a collaboration, steps to finding your ideal teammate and how to navigate your way to a fruitful future.
Check out our short guide to collaborating.
Takin' Care of Business 🎵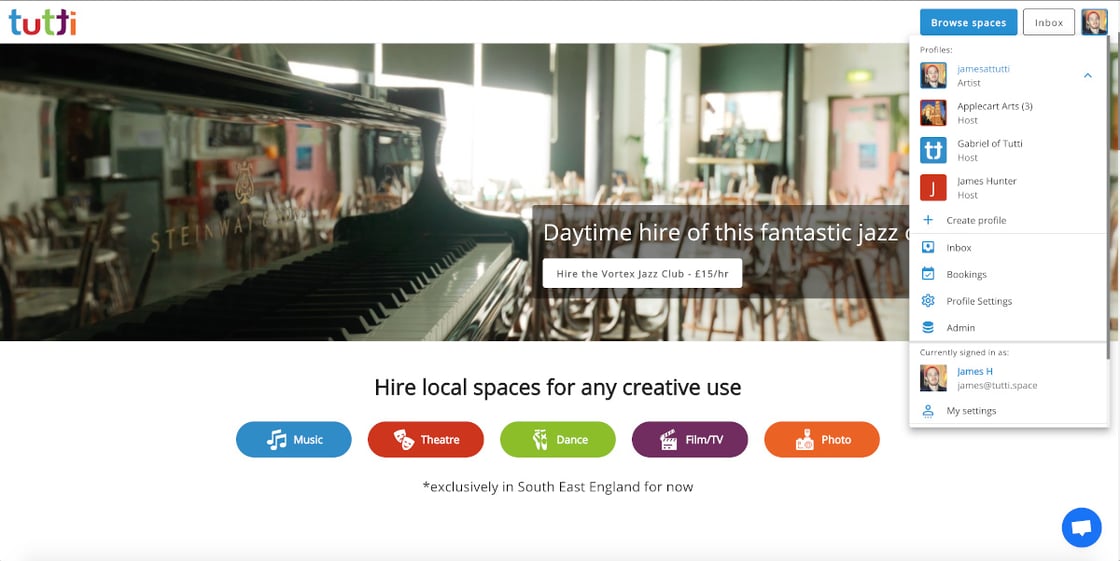 Did you know that Tutti was built for collaborations? This month, we wanted to highlight a built-in tool that's perfect for partnerships.
One project, many people.
Tutti has a multi-user system built-in - Tutti Profiles - so you can create a profile and invite as many collaborators as you need. The great thing about this is that when you're ready to find a space, you and your collaborators can easily share your favourite spaces; and when you've made your booking, you can all see it on your joint calendar.
One person, many projects.
We know a lot of you have different fingers in different pies, so Tutti Profiles also let you create different profiles for different projects. That way you can keep things organised and information separate. You don't even need to log-out to switch between profiles either, simply click on your user icon and select your profile.
Want to find out more? Watch this quick video.
Space Oddity 🎵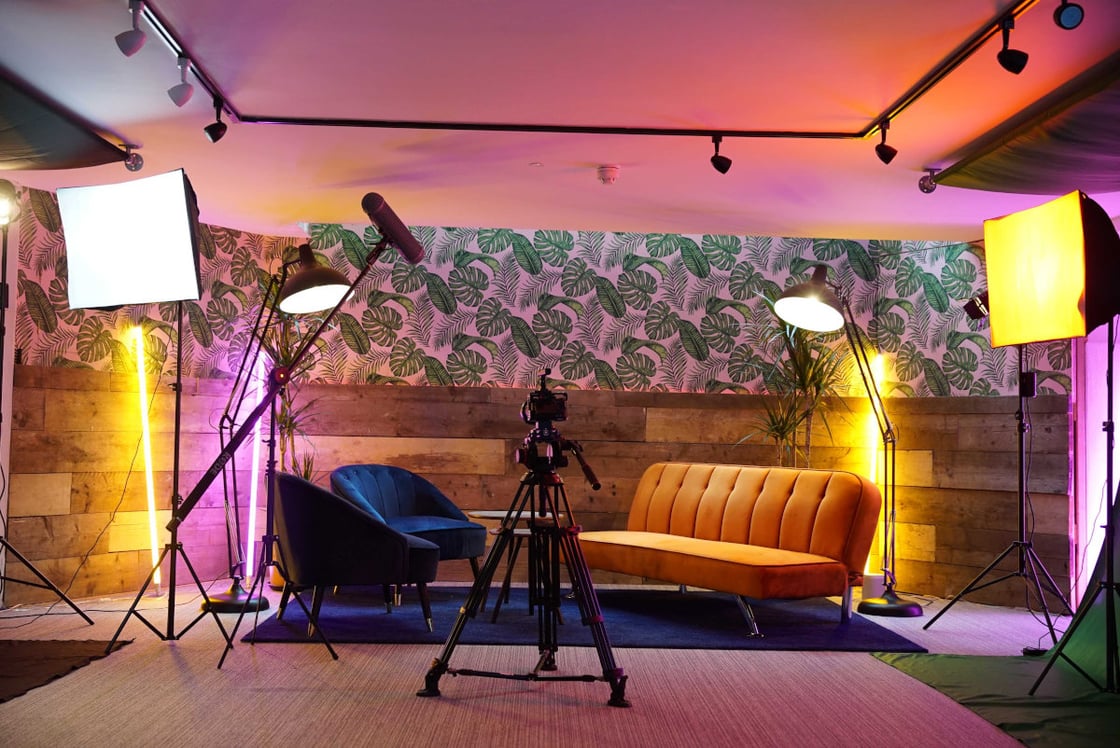 A good collaboration should be like a dream, which makes The Dream Factory a pretty aptly named space for your next collab. Luckily, it's also a killer content house designed to help you create video, photo and podcasting content. Not only that, there's space to plan and run events, which means, between them, their three spaces can support your project from start to finish.
What's more, this location is usually an exclusive membership for start-up founders, but they have agreed to open up their space to Tutti creatives!
Head over to their Instagram to see examples of content you could create and then get in touch with your idea via Tutti.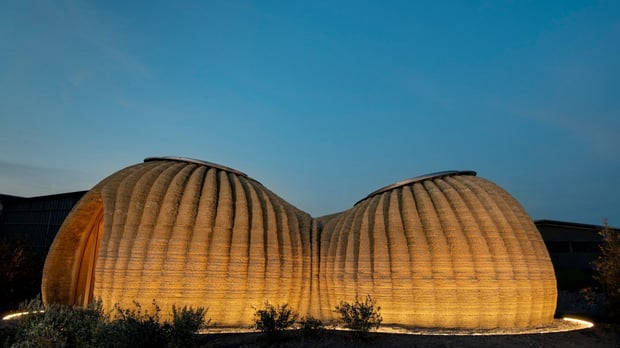 PS Would you believe us if we told you this beautiful structure is made from soil? Created by an Italian 3D printing company in just 200 hours, it is entirely eco-sustainable. Read more here.
Did you enjoy this email?
You can subscribe to the series (Tutti's monthly artist newsletter) here.