Hello there
It's been a while since we've talked and we've got some things to tell you....
We Have a Brand New Website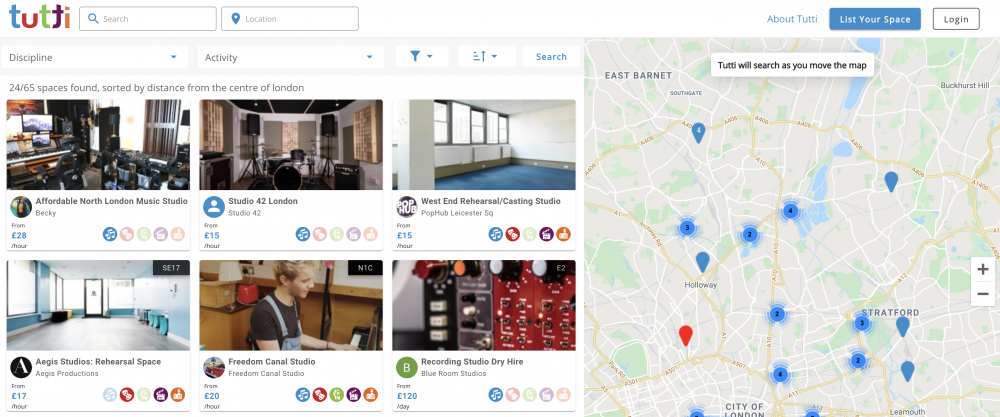 That's right, our team of developers have been busy at work redesigning and rebuilding a brand new website! We took on-board a lot of feedback from you all (thank you to everyone who got involved) and have greatly improved how the flow of the website and the features that affect you when listing, booking and looking for spaces.

Have a play here or you can get a general overview of all the updates here.

(We're always tinkering behind the scenes. If you've got any suggestions for improvements then send them over to support@tutti.space)
More New Stuff
You may have noticed our new colourful logo. We've made this change to reflect our focus on 5 creative uses: Music, Theatre, Dance, Film and Photography. It's something we've included before but now the new logo and how the website works really reflects this.
---
Covid-Secure Features
It's an ongoing struggle for everyone and we know there's a lot of uncertainty around safety when outside the home. We're currently working on some Covid-secure features that will bring clarity to people looking for safe spaces, as well as help those spaces clearly communicate what measures they've taken.
Included in these features will be some guidelines for both Hosts and Artists. There will be more information on all Covid-secure features in a further email coming soon, so keep an eye out for that.
---
Closing thoughts...
And we're out of things to say! But conversations are two-way so please do let us know if you have any questions or concerns by emailing us at community@tutti.space.
Have a safe month,
Gabriel, James, and the Team @ Tutti
---
P.S. Some of you may have already come across our little helper - Notey - who will be sending some emails in future and replying on our webchat when we're not around. So don't be confused when this cute thing says hello!

Did you enjoy this email?
You can subscribe to the series (Tutti's monthly artist newsletter) here.