Hello friend,
Our new Created Here listing feature is here! You can now share all the amazing content produced in your space for the world to see. Read all about it in this month's Feature Spotlight.
Speaking of amazing things created in our spaces, I had an amazing time at The Great Gatsby live experience, at the fantastic ImmersiveLDN. If you're looking for a brilliant night out in a space that also happens to be available on Tutti, check out the blog below.
We round things off by showcasing one of our latest verified hosts: Century Club, which boasts a wide range of wonderful spaces within their location in Piccadilly Circus, and finally, we take a moment to admire another kind of space.
Until next time,
Gabriel and the Team @ Tutti
---
Feature spotlight: Created Here
Introducing our latest addition to Tutti, built to help you better showcase your space: Created Here.
We've known for a while that simple photos do not do your spaces justice, so we've been eager to find other ways to help artists explore your amazing spaces. This has included integrating 3D models, as showcased last month.
And while those are cool, they're still essentially images captured at a specific point in time. We want to enable you to showcase your places in different light, diverse use cases, and demonstrate how they adapt to every person who uses them. And we went into building this with one more goal: to make sure it doesn't take you oodles of precious time to do this.
So we built Created Here, a system that enables you to pull content links from almost anywhere on the internet, and add them to your listings: videos, audio recordings, or images from just about any website. Just copy the public URL, paste it into Tutti, and our system will do the rest - recognising the content, formatting it correctly, and displaying it however it needs to be displayed. And if your content doesn't look right, just let us know!
Created Here displays just below your listing description, so you can reference it in your introduction, if you'd like. We automatically pull the thumbnail image from the content, but if you would like to override that, you can.
Want to try this out? Edit any of your listings and jump to the tab Created Here. Click Add content here to add your first piece of content. Hint: You can click and drag the dots on the left, to re-order your content at any time.
---
What's on the blog?
Recently Gabriel got to witness our of our host's spaces in its full glory, at an unforgettable performance of The Great Gatsby at ImmersiveLDN.
Read Gabriel's reactions to The Great Gatsby.
---
Super Spaces
We showcased this space to our artists in this month's newsletter. If you'd like us to showcase your space, become a Verified Host.
Nestled between Soho and China Town is Century Club's spectacular London rooftop. With breathtaking views across The City, Century Club's got everything you'd hope for from a London private members' club that doubles as a venue-for-hire.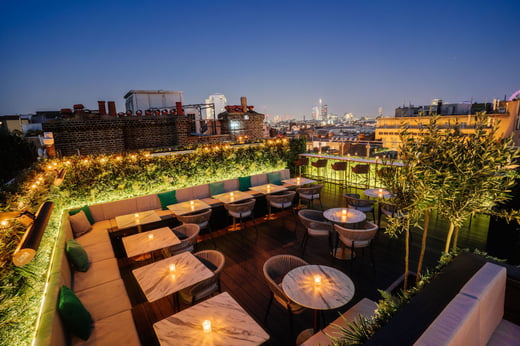 ---
Decidedly Different
On the topic of spaces, NASA's Perseverance Rover has been capturing all sorts of incredible images, videos and data throughout its mission to Mars. You can even make your own space exploration using their interactive interface. We're a fair way off living on Mars yet but the possibility of what a future could look like there is awe-inspiring.
Explore Mars with NASA's Perseverance Rover.
---
PS. We've had a great response to last month's feature on Matterport 3D imaging for your listing. Pricing is based on square footage, starting at £150 for up to 2000 square feet. Drop us an email, and we'll connect you with the team.
Did you enjoy this email?
You can subscribe to the series (Tutti's monthly host newsletter) here.